Todos Santos Eco Adventures (TOSEA) is the leading eco-adventure company in Baja California Sur. Family-owned and operated since 2002 by Sergio and Bryan Jauregui, TOSEA boasts boutique style, concentrated attention to the guest experience, strong conservation travel credentials, three amazing properties, and a dynamic team that loves sharing their passion for the phenomenal natural beauty, unique culture, and extraordinary wildlife of Baja. TOSEA's award-winning trips, boutique accommodations, and sustainability practices have been featured in numerous publications.
At TOSEA we pride ourselves on our exemplary customer service.We work closely with travelers to craft custom adventures that incorporate specific interests including natural history, art, wildlife, cuisine, culture, conservation and more. Our outstanding guides, who are truly one of the best guiding teams in Mexico, add the magic.
We operate three wonderful properties that highlight the stunning nature of Baja California Sur: charming casitas in Todos Santos overlooking the Pacific Ocean, and tented camps in the Sierra La Laguna Biosphere Reserve and Isla Espiritu Santo in the Sea of Cortez.
Since inception, the goal of Todos Santos Eco Adventures, Los Colibris Casitas, Camp Cecil de la Sierra, and Camp Cecil de la Isla, has been to inspire travelers, maximize social and economic benefits for the local community, and encourage others to do the same. Equally as important to us is conservation of the great natural beauty of our part of the planet. Like all travel companies, our contribution to climate change is obvious and indisputable, and an issue we struggle with as the last thing we want to do is harm the ecosystems and wildlife at the heart of the immersive nature experiences we provide for our guests.
Don't just take our word for it, here's just a taste of what our guests have to say about us!
A special shout out to the TOSEA team. They are passionate, energetic and detail oriented. You will love meeting and laughing with them all! They made every experience so special. Thank you Bryan (we don't know how you do it all!); abrazaos Cesar (the best guide!); muchísimos gracias Omar (loved our days in the panga); felicitaciones Martin y Nari (you work magic in every bite); gracias Ricardo (senior hibiscus!); and love and hugs to everyone on the team!
Kellie M.
And I saved the best for last. Our guide, Alejandra Ibarrola, was one of the best. We hit the lottery having her the entire week. She was super knowledgeable about the geography, biology, and history of Baja. She even gave us a lesson on constellations and everything we saw in the spectacular sky at Camp Cecil. We had so much fun with her. This was a girls' trip, so it was perfect that she was leading our trip the entire week, and she made it so special – we will never forget her. This trip is something that will be on our regular vacation rotation – it is one of the best!
Claire B.
I've traveled to over 50 counties and so for my 50th birthday I decided to spend it off the grid at Camp Cecil. It was the most magical and beautiful time I've ever had! What a stunning place and the staff and guides are beyond the best I've experienced. I felt as if we are family and friends for life.
Carmindy B.
Awesome adventure with Cesar!
We swam along side massive whale sharks in a bucket list experience. Worth every cent! Take the time to make this happen for you and your kids.
Adam F.

Schönes Outdoor Erlebnis Wunderschöner Aufenthalt in der Natur. Viele Schmetterlinge und Blüten. Top Guides mit viel Wissen. Schönes Zelt und bequemes Bett! Das "WC" befindet sich "en-suite" beim eigenen Zelt, Dusche und Waschbecken sind ausserhalb zum teilen. Essen war nicht ganz so toll wie geworben wird:) aber das ist Geschmacksache. Preis: meiner Meinung nach viel zu teuer. Ansonsten ein tolles Outdoor Erlebniss!

Wildlife&Water
2021-11-29
Magical in every way We were informed a week before we left that due to government regulations we would not be able to stay at Camp Cecil as planned; however, alternative accommodations at a hotel in La Paz would be provided, and we would still have the same experiences (swimming with sea lions, hiking, swimming with whale sharks) that we had initially booked. I am writing this review specifically to anyone who is reading this who might find themselves in a similar situation. In a word: GO! We had the most magical time. Our guides, Cesar and Hugo, were passionate, professional, and so much fun to be around. They provided wonderful insights and were always punctual. Honestly, I can't imagine them delivering a better experience, and the lunches we had on the island in between the activities were absolutely delicious. All arrangements (including dinner in La Paz) were still taken care of, and we felt incredibly spoiled. Though we're sorry we couldn't have the "glamping" experience, Bryan and Sergio more than made up for it. We didn't hesitate to tip everyone--the guides and the staff on the island--the same amount we would have had we stayed at Camp Cecil as intended. This is one of our favorite trips of all time, and we have traveled to some pretty amazing places! While I'm giving advice, I have to recommend that you include a stay at Los Colibris in Todos Santos, too, and you experience the cooking class with Chef Iker, Chef Eleazar, and Adriana, We had the best time with them, and the Babisuri suite where we stayed was simply stunning.

Amazing Views and Knowledgable Guide Loved this walking tour. Mauricio is very knowledgable about the flora, birds, history, and local environment. He even added a bit of a climb at our request to reach the top of a hill overlooking the beach and the town! We do not own binoculars and he loaned us each a paid which really enhanced our bird-spotting powers.

Pacific Bluffs Hike This hike was GREAT. Mauricio and his brother Francisco were terrific guides. They worked very hard to make the day perfect. We did the Pacific Bluffs Hike. At the end we had a beach all to ourselves where they served a terrific lunch. We highly recommend this hike but especially these guides.
Hike in desert Cesar was very friendly and knowledgeable of the area. He recommended we start earlier because of the heat and we were glad he did. We went on the hike in the Sierra de Laguna.

BlazingSaddleSF
2021-06-04
Dream come true! This Trip was a dream come true!!! It was an expedition to celebrate our daughter Sandra's birthday along with a few of her friends. The glamping camp was fantastic, all tents were just a couple of feet from the shore covered with white sea shells with incredible views. The beds were super comfortable and rooms very clean. The meals were carefully prepared by the kitchen's great staff. The best part were our guides Hugo (the Nugget man), Alejandra and Edgar. They were knowledgeable, fun and super friendly. They gave us a lot of room but kept us entertained the entire time. This is definitely a bucket list item!!!

Fantastic, Unique Hike! This was a fantastic hike! Cesar, our guide, was excellent! He is highly informed and enthusiastically shared the historical, cultural, botanical, and geographical aspects of the biosphere in great detail. His thoughtful stories and discussions were a treat. The drive to our hike wound through dirt roads, canyons, a cattle ranch, and the hike itself was a highlight of our vacation. The winding trail along the ridges, canyons, and waterbeds was beautiful and the views across the land to the Pacific were stunning. Highly recommended!

Alejandro Olryd
2021-05-22
Una Luna de Miel Inolvidable en Camp Cecil La Real Academia Española define "Perfecto" de la siguiente manera: Que tiene el mayor grado posible de bondad o excelencia en su línea. Yo lo definiría con dos palabras... "Camp Cecil". He tenido la enorme fortuna en mi vida de poder viajar bastante y conocer lugares muy exclusivos. Lugares que, sinceramente, me sonrojan del precio y me hacen sentir que estoy gastando demasiado. Ustedes han puesto una nueva barra de excelencia contra todos esos lugares. Tanto en comida, servicio, humor, ubicación, conocimiento y comodidad como en espiritualismo y tranquilidad. Desde el momento que llegamos a la bodega supimos que este viaje iba a ser espectacular. Nos recibió Hugo y otro compañero, que debo admitir nunca entendí bien su nombre, y todo el camino de ahí a Pichilingue fue chiste tras chiste con momentos ocasionales de cultura y de compartir conocimientos. Llegando al campamento el servicio fue... la mejor forma de describirlo sería "Camp Cecil"! La comida y servicio de todos los que estuvieron ahí fue increíble. Nos prepararnos una cena extraordinaria para la primera noche con ocasión de nuestra luna de miel y prepararon todo en "La Cueva". De ahí, todo siguió perfecto. Los tours, el servicio, la plática, la comida... Ya estamos inclusive planeando el siguiente viaje con ustedes para Enero o Febrero del 2022 con la familia de mi esposa. Quiero seguir escribiendo sobre lo increíble que fue el lugar, pero no quiero quitarles tiempo. Solo haré dos comentarios más: 1. La libreta en el campamento de información con los artículos escritos por Bryan son increíbles. Muy alivianados y nos ayudaron a entender mucho. ¡Deberías escribir un libro! 2. Hugo... Tienen una joya invaluable en el. Tanto mi esposa y yo creemos que Hugo fue la magia principal del viaje completo. Por favor extiendan nuestro agradecimiento a el. We are dumbfounded by the amount of information that man holds in his head. ¡Nuevamente gracias y les deseo lo mejor a todo el equipo! Alejandor y Laura

Must do!! Must do if in La Paz or Todos Santos! Breathtaking with an amazing crew and education. The sea lions swim under and around you - so memorable. I couldn't stop saying wow. Delicious lunch and relaxation on the beach. What a perfect day.

Beautiful experience Beautiful stay at Casa Colibris. Gorgeous fauna and flora in the most spectacular setting. Hosts, chef and property manager all very accommodating. Highly recommend.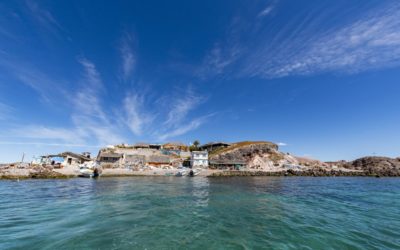 The Cuevas family has lived on El Pardito, a rock in the Sea of Cortez, for 4 generations. This story charts the family's journey from shark hunting to ocean conservation, and some of the stops along the way.
read more